Since Fashionist 4.1, both the Attached Weapons on the character and the Weapon Style are controlled via weapon categories. The weapon category defines where the weapon is displayed on the character and which weapons can be styled together.
The following applies:
Weapons of the same category are always displayed in the same slot
Only the style of a weapon with identical category is applicable to the equipped weapon.
Example: Sword Two-Handed on Sword Two-Handed but not Katana on Sword Two-Handed. Although both are technically of the same weapon type, they are different weapon categories.
Mod weapons can use item tags to control which category a weapon belongs to (see the detailed description under Fashionist – Attached Weapons for Mod Weapons). If there are no item tags on a weapon, no matter if base game or mod weapon, a fallback mechanism is used to determine the weapon category.
The category is determined using various information from the ItemTable datatable: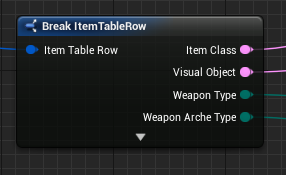 Logic example for the weapon category Sword One-Handed: